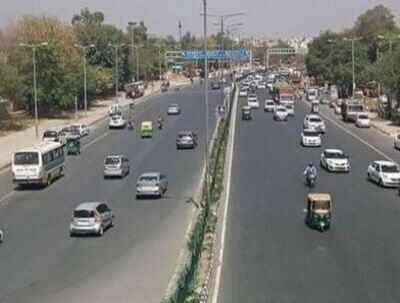 The National Highways Authority of India (NHAI) will develop the road between Rohtak-Hisar near the area of ​​Ramayana toll as an ideal highway on international lines up to 15 km. This route will be fully made hi-tech. Which will have all the basic facilities. CGM Colonel Virender Shekhawat said that this would become the first model road in Haryana Punjab. During the lockdown, work has started for this project through street videography which will be completed soon. This work is going on under the supervision of PIU Rohtak.
The RHTPL Hisar section in Haryana is to be developed as an ideal stretch. Rohtak-Hisar Toll-Way Pvt. (RHTPL) will ensure that this road has all the characteristics of a great road that can serve an educational purpose, making this model ideal for other NHAI and PWD projects in India. This will show what a good road should look like and what all the features should be. All measures to increase safety and beauty will be taken on the ideal route.
Rainwater harvesting system and CCTV will be installed
Road indicators, road marking, street furniture, and safety goods, proper junctions, and entry-exit are included. Apart from this, rainwater harvesting systems for proper drainage, space for pedestrians, highway lighting, trees, trees, basic facilities near toll plazas, and CCTV cameras will be installed on these routes.
The ideal route for an international level will be built near the Ramayana Toll Plaza. The toll plaza will be fully automatic. At least the staff will be needed at the toll. It will be made completely Hitech. Different types of trees will be planted and lights will be installed on the entire road, which will make the night look like day. Such arrangements will be made that they will not be able to come and obstruct. The project has been named as 'Develop Model Toll Highway Stretch 15 km'. Which will have all the basic facilities. Work is going on under the supervision of PIU Rohtak which will be completed soon.
– Colonel Virendra Shekhawat, toll CGM
If you do not understand my given information,then you can ask me your question in the comment box, I will answer your questions as soon as possible.